Green Bean Music was founded in 2002 by music teacher Bill Corrough and songwriter/producer Ryan Bassler, with the goal of creating musical productions that students and parents alike truly enjoy. Green Bean's formula – memorable, melodic songs; unique and contemporary musical styles; smart lyrics; and clever, fact-filled, in-between song dialogue – makes for shows kids love to perform, and songs the audience walks away humming.
In more than ten years as an elementary school teacher, Corrough noticed that while there are plenty of musical programs available for teachers to buy, it was hard to find programs that really inspired his students. "A lot of what's available can seem perfunctory and somewhat pandering to the kids. I would eventually settle on performing whatever program I could find for sale, and by the time we'd put on a performance, the kids, parents and teachers were all bored. No one was enjoying the music, which is the whole point."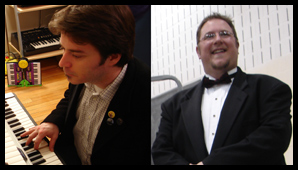 Enter Corrough's friend Bassler, an independent musican and producer whose work has been noticed by publications such as
Rolling Stone
,
The Village Voice
, and
Seattle Weekly
. "Years ago, I remember reading an interview with Christopher Cerf, one of the songwriting geniuses behind 'Sesame Street'" recalls Bassler. "And bits of what he said still stick with me whenever we start writing a new Green Bean show. Kids want to hear and sing songs like ones their big brothers and sisters listen to, not songs that sound like what adults
think
they like. Our goal is always to provide kids with songs that appeal to them – and shows that won't leave parents looking at their watches."
The Green Bean duo wrote their first full program in Fall 2002. "The Country Continent," a charming trek through Australia, was performed by 200 of Bill's students to huge accolades. Students, parents, and faculty noticed a real qualitative difference in Green Bean's approach … a splendid time was had by all. Green Bean followed up this show with another, then another, and currently is writing their 10th program. Each Green Bean show features an educational theme given a fresh musical spin that is fun, irreverent, and engaging.
"It's always great to hear stories," says Corrough, "such as how a bus full of students were on a field trip spontaneously singing Green Bean songs, or to walk down the hall and catch a student humming one of our tunes. The fact that they're learning about Antarctica or reptiles or other cultures, is an added bonus of which I couldn't be more proud. Just as 'Schoolhouse Rock' educated and entertained my generation, I hope for Green Bean to stay with students long after the performance is over."